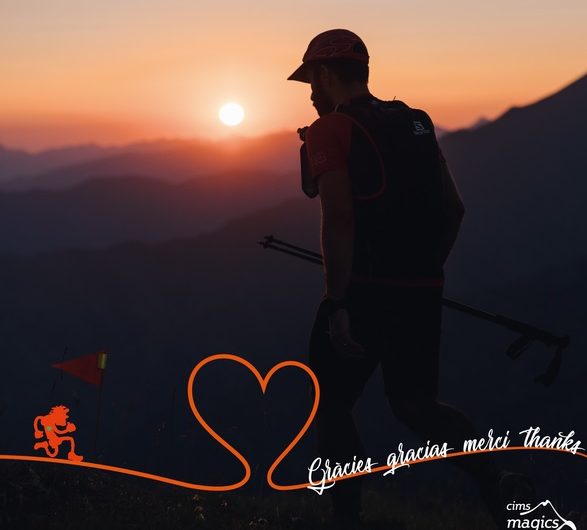 С какво ли ще ни изненада Андора догодина 😉
Today we're sending you this words because we really appreciate all the messages and support samples we've received since last Friday. We are flooded with emails and comments from all over the world. They touch our hearts, excite us and help us overcome this ordeal. Thanks!!!! Many thanks to all!
The adventure began in 2009… Andorra Ultra Trail Vallnord was created by a couple of passionate people who wanted to let known and share the beauty of Andorran mountains, lakes, forests and incredible landscapes. At that time, very few people believed in it, they were treating Gerard like crazy to trace these paths. And step by step, the event consolidated and attracted runners (just as crazy as them) from all over the world.
During the first full moon of summer, the small town of Ordino was filled with life around the values ​​of overcoming and solidarity. Our mountains trembled with happiness beneath your feet, the many volunteers were delighted to pamper and encourage you, all dressed in orange, and the whole team was motivated and alert to take care of you as you ran through our peaks.
We can't hide the fact that these last twelve years have been very busy, but it was a fantastic period and we will only keep good memories of it! The emotions we experienced, the fantastic people we met, the bonds we forged with them have marked us forever. Funny situations or situations of extreme tension have made us vibrate with high intensity.
We will never forget the runners who hugged us reaching the finish line, completely exhausted and who thanked us for the fantastic experience we offered them. We were as tired as them after a week of virtually no sleep and we tried to hold back tears (sometimes unsuccessfully ?) by sharing the famous beer with them.
Once the event was over, all of you back home, we felt a great emptiness and we watched the movies over and over again, we read your blogs … All this to retain these magical moments, hoping to relive them the next year or share them with you during our various meetings.
In short, a fabulous adventure is over, but the memories do not fade, on the opposite… We are convinced that only one page is turned to rewrite many more.
Your many messages spur us on and a lot of ideas come to mind! Once rested and after the storm, new projects (certainly very different but not less interesting) will begin to take shape, we are convinced… In fact, we cannot imagine the sequel without you, without the AUTV super family with who we have shared so much in each edition and over all these years!
We will keep you informed and, in the meantime, we will continue to make you dream by sharing good memories …
So, see you soon, take care! And a very strong hug.